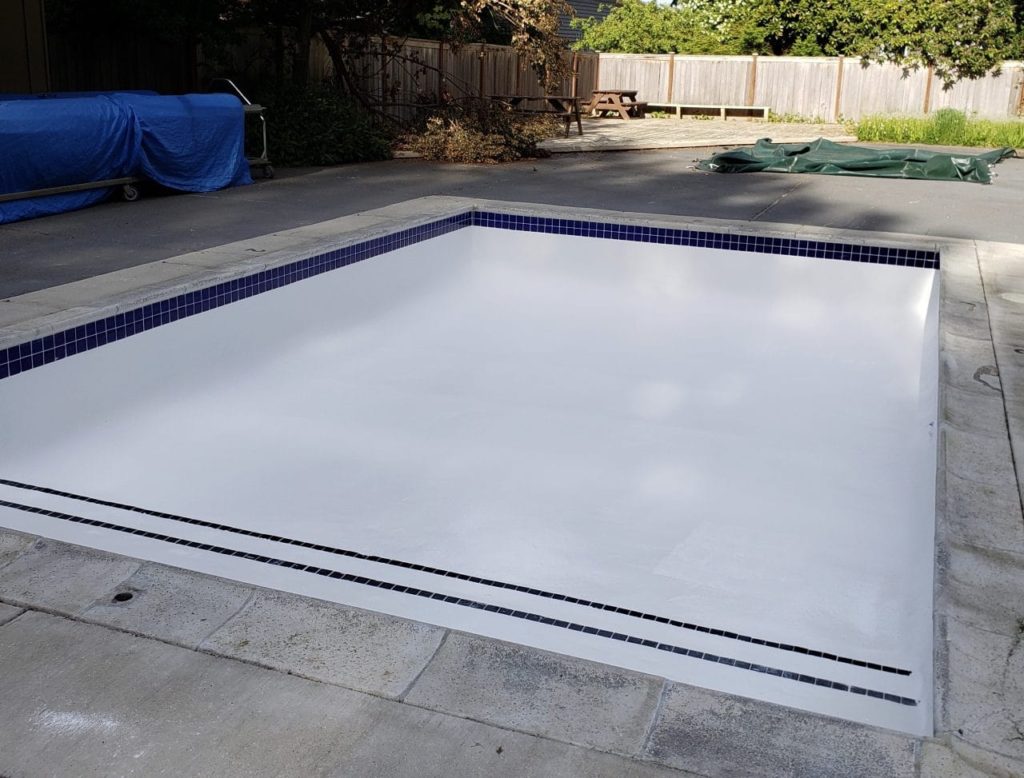 There are numerous pool resurfacing options, however, plaster is one of the most common materials used for the interior of swimming pools. Usually, the process of pool plastering usually starts with applying either concrete or gunite over a steel structure, both of which are porous materials.
Making sure that the integrity of the pool plastering remains intact is a must to maintain the structural integrity of the entire swimming pool. Doing so will help a great deal in keeping surfaces smooth to walk on and add to the overall aesthetic component of the pool.
Benefits Of Pool Plastering In Las Vegas Nevada
Why Re-plaster As Pool Repair?
Although the most common, white plaster is also one of the least durable materials among the options for pool finishes Las Vegas. Hence, periodic re-plastering is necessary to maintain the appearance of your pool. Some of the signs that let you know it is time to re-plastering your pool are:
Once these cracks and stains manifest themselves over time, the water in your Las Vegas NV pool ceases to look clear and clean. As soon as it does, re-plastering is already in order.

Limitations And Common Problems Of Pool Plaster
Over time pool plaster issues appear, like cracking, discoloration, etching, and delamination can occur to your swimming pool plastering which makes it a material that requires frequent maintenance even when you handle it with the utmost care.
The rate of deterioration itself is more rapid on plastering compared to other pool finishes due to material limitations, its sensitivity to incorrect water chemistry, and the reactive nature of pool plaster surfaces due to its high chemical requirement at all times.
Pool Plastering Las Vegas is both a work of art and science in itself. It is one of the pool repair that is not recommended to be a DIY project. Although given that plaster is affordable, it is also a difficult medium to work with, since hundreds of variables can come into play and each may affect the outcome of the pool plastering job. 
If you are planning your pool plastering and upgrade projects get help from the pool re-plastering team to get top-tier craftsmanship.
We offer a warranty to all of our clients. Contact us today if you have any questions, CALL (702) 710-5883 for a free estimate and consultation.
Pool Resurfacing As An Alternative
One of the repair and improvement methods that you need to consider instead of pool plastering or re-plastering is pool resurfacing. It involves chipping out the damaged material on your pool, applying a new finish, and acid washing the surface.
Similar to pool replastering Las Vegas, cracks in your pool indicate that it is time to do resurfacing. Owing to a number of factors such as the location of your pool, the general climate in your area, and the age of the pool itself, resurfacing is hands down the more viable option between the two.
Although the cost involved with pool resurfacing, which ranges from $5 – $7 per square foot and labor costs range from $400 – $565 for six hours of work is almost the same as compared to re-plastering, which costs between $4.66 – $6 per square foot and labor cost of $380 to $517 for six hours of work, the former requires a considerably lesser amount of time to complete the task.
In addition, periodic re-plastering may be required every 5-7 years, versus having to resurface your pool only once every 15-20 years. The cost involved then may add up very quickly. Simply put, choosing pool resurfacing means less frequent recurring costs which means you get to save more money in the long run.
Given the advantages and benefits we have stated plus great customer service, now is the perfect time to have your pool resurfaced. 
If you want tons of savings while getting to enjoy quality time with your family and friends in your own pool for years to come, get in touch with Pool Plastering Las Vegas professionals and have your pool resurfaced now! Other popular pool resurfacing options are fiberglass, quartz, tile, aggregate, and the most in-demand option today is the glasscoat due to its durability. 
Now, if you're looking for more information about pool plastering companies, swimming pool plaster repair, pool resurfacing project, or other pool services call us at (702) 710-5883 today! FREE QUOTE! We are based in Las Vegas Nevada.