Residential or commercial, swimming pools are customary—nowadays—to properties as they are fantastic backyard oasis to relax and savor the warm weather. Brought also by modern methods of resurfacing, the integration of one's preference and style is now attainable.
Still, due to regular utilization and exposure to various elements, pool surfaces get more prone to wear and tear, thus losing its curb appeal. 
Although some pool surfacing materials are expected to last for years, damages are inevitable, and they will eventually require repairs.
Glasscoat or pebble tec, both are reliable approaches for resurfacing your pool area. However, each has also superior qualities over the other. 
To help you determine which resurfacing method is the most applicable for your pool, here is a comparative analysis.
Materials and Applicability
High-performing, glass-fiber strengthened, glasscoat is a polymeric coating that was initially developed decades ago for industrial use, mainly for corrosion protection of steel and concrete. 
Polymers have been specially altered to be utilized in swimming pools, tubs, and other water-related surfaces over the past 35 years. 
In reality, glasscoat is one of the most widely employed for commercial pools and in hot spas as well since it has a low deterioration probability.
Pebble Tec pool finishes, on the other hand, are relatively similar to plaster or marcite. Exotic stone aggregates are mixed with the cement to provide a smooth and durable pool surface. 
This method then began to be applied in most pools with the use of smaller exposed aggregate. However, there are a few shortcomings for this material as to its usage, that is why commercial pool owners do not recommend this method. 
Pebble tec also causes rapid deterioration in hot spas, making it rough, blemished, and prone to black algae infestation.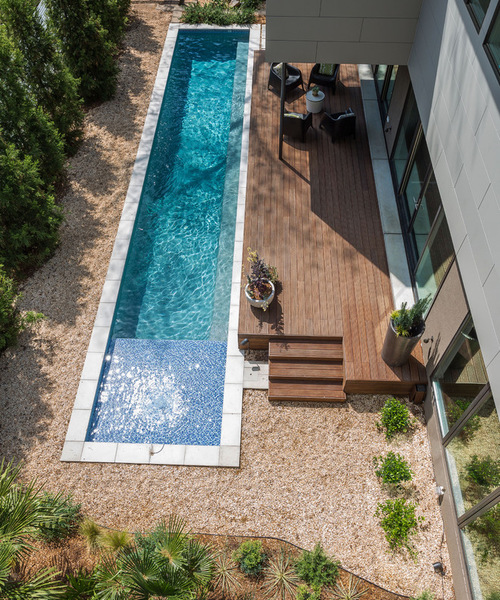 Versatile and compact, the glasscoat can be applied to concrete, fiberglass, iron, aluminum, and painted exteriors.
It offers an elegant, scintillating look and permanently takes over the bland and dull pool appearance. Its surface can also be easily cleaned to maintain its smooth surface.
Glasscoat pool coatings delivers superior looks and vibe, and its visual qualities retain over the life of the pool facade.
As for pebble tec, the finish provides a stylish, fresh, and natural look, especially when incorporated with artistic designs.
This method comes in a variety of colors, which enables you to pick what's best for your pool. You can opt for radiant or fresh colors or a combination of hues to resemble the ocean's appearance.
Despite these outstanding qualities, the major setback for this is the loss of aggregate makes the pool very rough.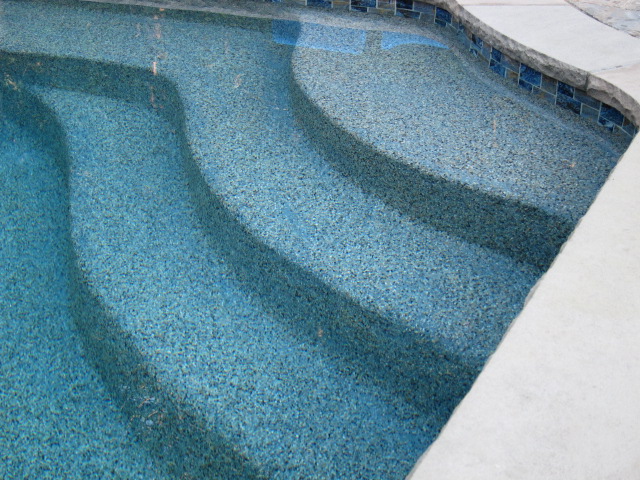 When talking about premium pool restoration, glasscoat is notably one practical solution. It thoroughly eliminates issues like rifts, leaks, rough surfaces, blemishes, algae, spalling, and discoloration. 
Glasscoat also has a corrosion-resistant property—unaffected by chemical-infused pool water.
Also, with its 20-year service life, it is tested and verified under field conditions.
There are considerably several reasons why pebble tec is a top finishing alternative for pool owners, its incredible durability and beauty is one of those. Pebble tec endures high temperatures and is resistant to some damages brought by chemicals.
On top of that, its textured design also offers a slip-free surface providing a rustic glamour and safer swimming experience.
The structural strength, however, is easily compromised and will readily crack and leak. The coarse texture also stimulates algae germination, and with the absence of corrosion-resisting properties, rebar stains will eventually arise.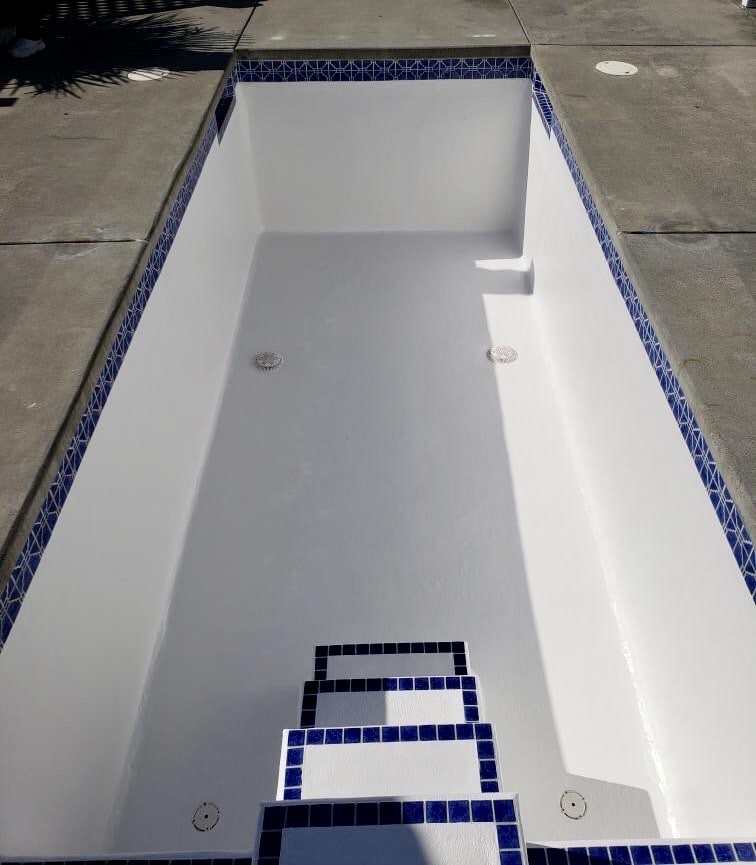 Installation and Maintenance
Glasscoat is not typical of that traditional fiberglass since the coating is applied via spray technology using high-end equipment. This method provides many technical advantages as compared to hand-applied.
It is also widely specified by aquatic consultants brought by its longevity and virtually does not require periodic maintenance.
Aquatic consultants widely specify Glasscoat due to its long service life and maintenance-free capability.
For pebble tec, the cement, water, aggregates, and additives are combined all together and then pumped through a high-pressure hose to the pool surface.
After that, it will be sprayed to expose the pebbles and eliminate the thin layer of cement that blankets the aggregate. It'll also need to wait for at least 24 hours to harden before applying acid rinse. A unique solution is also smeared as a final treatment to enhance the pebbles' luminosity.
Pebble tec, however, entails massive upkeep. It is advised that for the first 30 days after installation, pH and alkalinity should be mindfully monitored because they can directly influence the condition of the pool surface. 
It should also be then periodically maintained to make it last up to 20 years.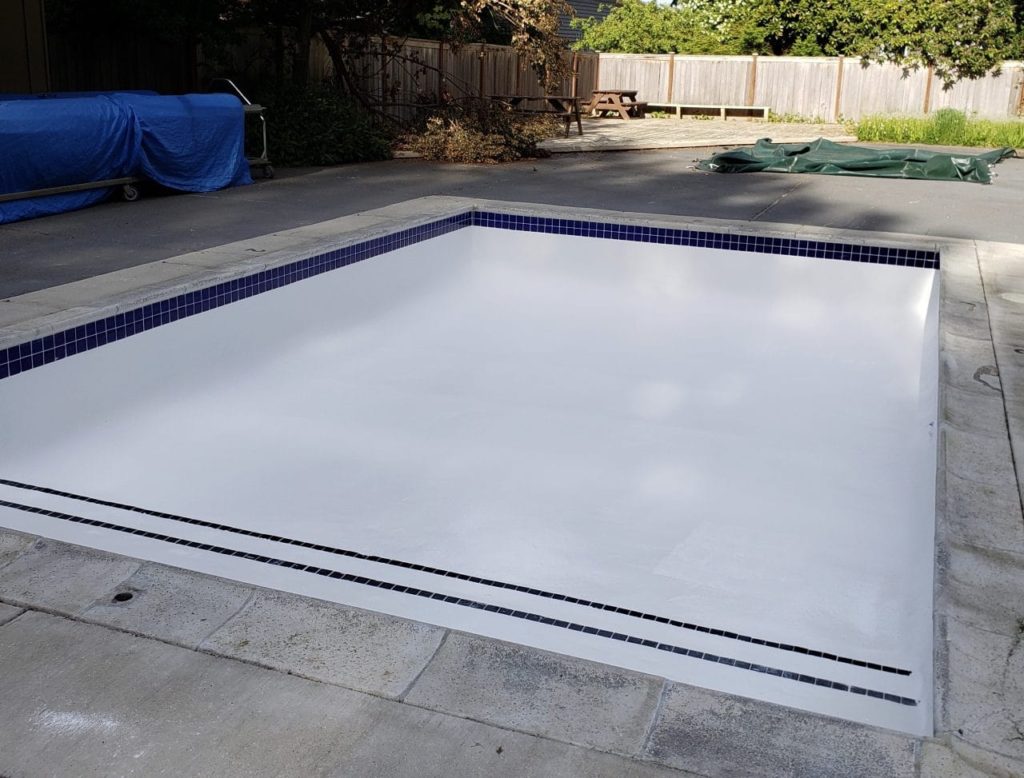 Given the pros and cons of both pool resurfacing methods, whether it is commercial or residential, swimming pools and spas should never be taken for granted.
If you aspire to conserve financial resources while getting to treasure quality time with your family or providing luxury to your guests in your pool for years to come, have it resurfaced at once!
Are you considering a remodel for your pool? Look no further! Pool Resurfacing Las Vegas company offers the best pebbletec and pool resurfacing products on the market. 
Our team of experienced contractors will work with you to create the perfect pool surface to fit your needs. We are a trusted company providing you with the best service and products for your remodel. 
Contact us today to schedule a consultation with our team and see what we can do for your pool! 
Frequently Asked Questions
Typically, the pricing for pool replastering is around $4 to $7 per square foot.
Pool companies in Las Vegas, NV charge between an average of $60 and $175 per month for regular pool maintenance. However, some services may cost extra. On average, a pool cleaner charges around $80.
Let us be partners in your pool revamping: glasscoat or pebble tec Las Vegas! Call us today at (702) 710-5883. Our seasoned pool resurfacing experts will be delighted to address your concerns.