Looking to create a serene and relaxing backyard oasis? Adding jewel tones to your poolscapes can be a game-changer because of its excellent look and feel. 
Let's dive into why you should use jewel tones in your poolscapes and learn some tips and ideas for incorporating them into your backyard. Also when considering pool resurfacing, it is essential to know the information regarding its costings and other considerations.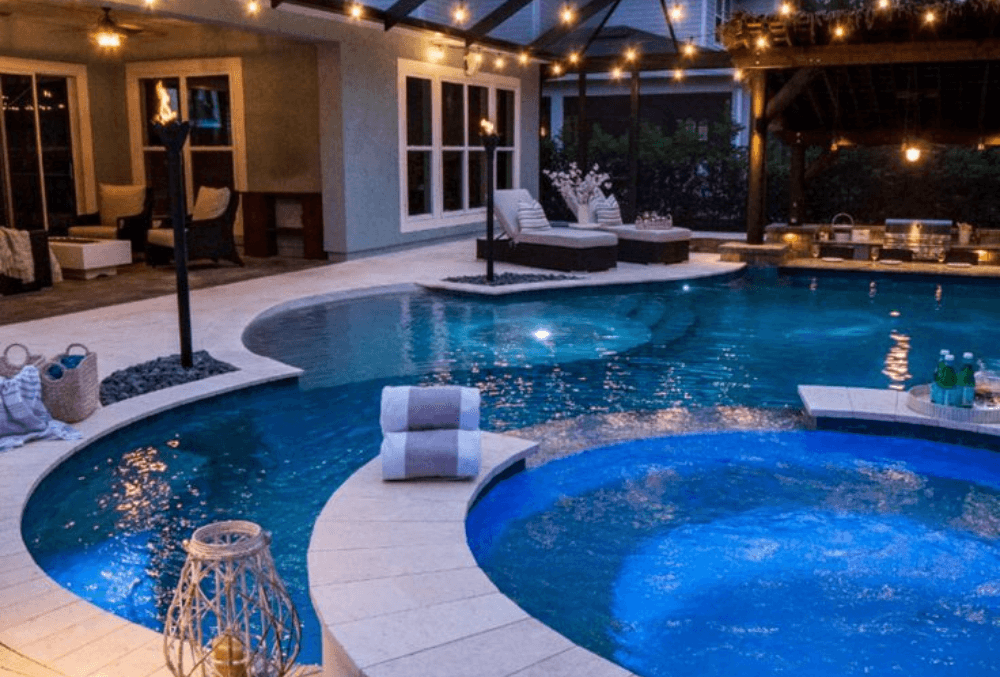 Jewel tones are among the top choices for reflective or water spaces because of their rich and bold colors. Precious gemstones like emeralds, rubies, and sapphires inspire them.
Gemstone-inspired colors have a shimmering quality that can evoke a sense of calm and confidence.
Some examples of the jewel tones and what they add to the space:
Ruby red is an elegant fiery that makes the place passionate and exciting.
Amethyst purple is a deep and regal purple creating some sense of posh and luxury.
Topaz yellow is a sunny yellow that adds happy energy to your pool design.
Aquamarine blue is a shimmering blue-green that produces relaxation and enhances the swimming pool's natural reflection.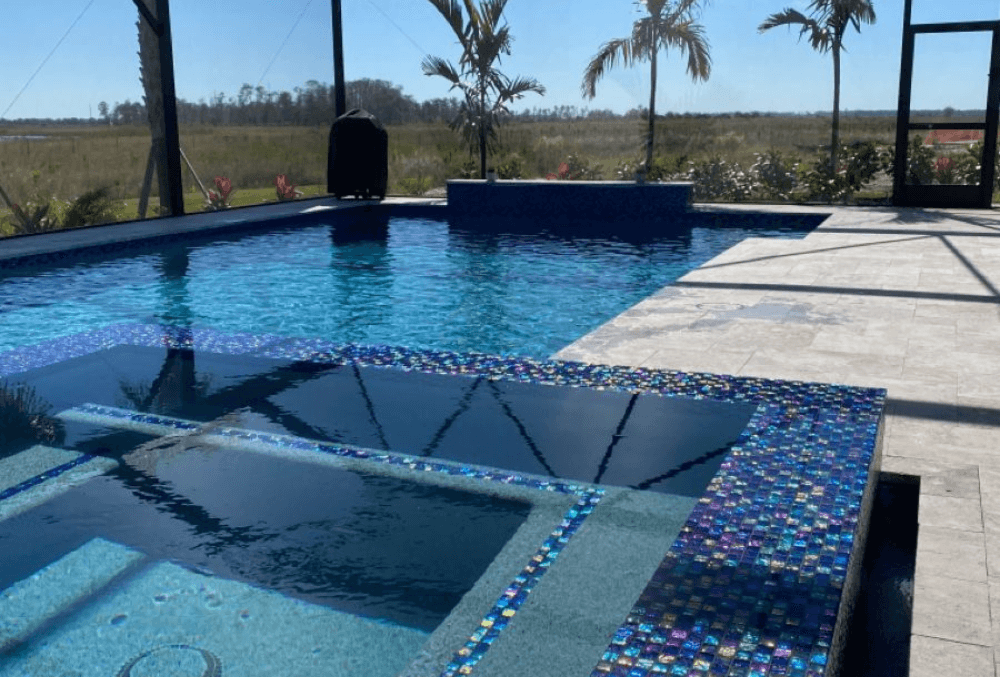 Pool Designs And Styles You Can Use Jewel Tones Poolscapes
You can enhance Many different pool designs and styles with jewel-tone colors, whether lap pools or hot tubs and spas in different shapes and sizes.
You can apply them to any pool shapes and design themes like the following:
A pool design with clean lines and sharp angles can use jewel tones to be more dynamic. It can make the place more high-end and quickly set the mood for any activities you want in the pool, from morning swimming lapses to a night pool party with friends.
Suppose you have a curvy or irregularly shaped pool. In that case, you can use jewel tones to create that sleek effect without the restraint of corners and maintain a contemporary look.
For those who prefer a more naturalistic pool design, there are other ways to incorporate jewel tones into your poolscapes. Read on to learn more.
Consider laying jewel-colored pebble stones if you prefer natural scenery for your pool. It can create a naturally exposed mineral or crystal look, giving it a perfect lagoon feel.
Naturalistic pool designs are more on the side of free form. Still, they have more rock formations and other foliage along their border.
For example, you could use dark green pebbles to match the greeneries or turquoise rocks to create a shimmering, jewel-toned lake. Pebble stones can also create interesting patterns or mosaics in your pool design.
Pebble Stones And How To Incorporate Them Into Your Swimming Pools
Pebble stones are a popular option for creating a natural-looking poolscape. As mentioned, they can also come in jewel-tone colors.
One of the advantages of pebble tec resurfacing for your pool is that they offer a textured non-slip surface that can improve pool safety and aesthetic.
Consider using pebble tec pool finishes in a contrasting jewel-tone color to create a dynamic and eye-catching design.
For example, if you use a dark blue pebble tec pool in your design, consider using light green or orange pebble stones to create a striking contrast. Alternatively, you could blend jewel-tone colors to create a mosaic or pattern in your pool design. 
Bejeweled Look And Feel In Your Pools!
If you want sparkly yet natural-looking pools, consider working with a professional pool resurfacer like Pebble Tec Las Vegas. With a reliable professional, you can be sure your backyard oasis will be a true jewel-tone masterpiece. Best believe your pool's bejeweled!