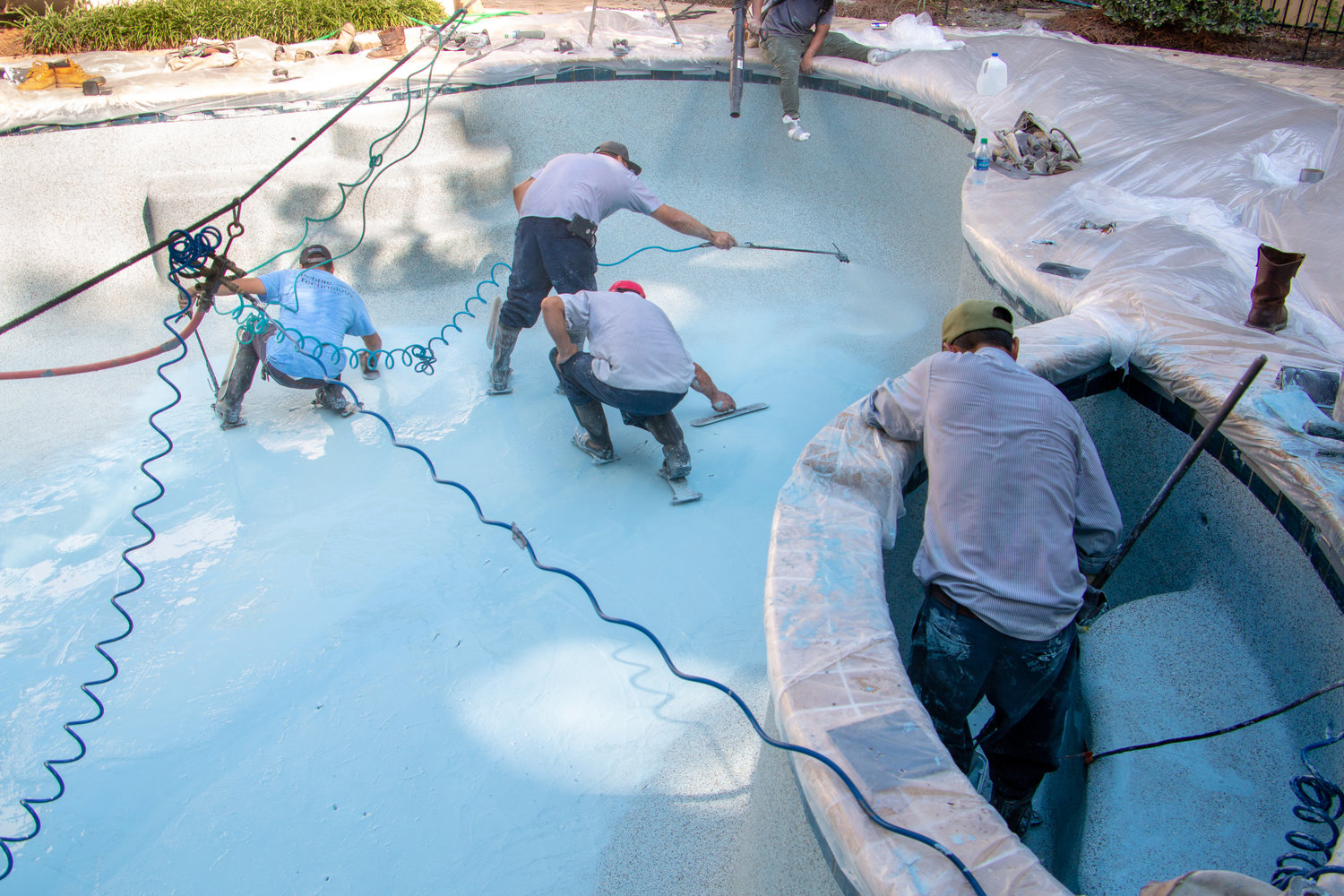 Pool repair in Las Vegas, Nevada is a popular service due to the city's hot climate and large number of swimming pools. Pool Resurfacing Las Vegas offers exceptional pool repair services for all different types of residential or commercial pool problems.
Our locally operated company served thousands of customers for over 20 years now. We are a secured and licensed company with a team of professional experience and trusted technicians & installers around Las Vegas NV specializing in pool service, plastering a pool, maintenance, and repairs.
Las Vegas Swimming Pool Repair Takeaways, 7 Most Common Pool Problems You May Now Be Encountering
After several years, your swimming pool may show different types of issues that can only be fixed by a licensed Las Vegas repair company with the complete pool equipment. 
Delaying pool repairs can lead to costly and potentially dangerous issues. Simple cracks can quickly worsen, leading to bigger problems. 
Don't take chances with your safety. Take care of any pool repairs as soon as possible to prevent further damage and ensure your safety. It's important to have an expert team of swimming pool repair contractors you can turn to do the job. Pool Resurfacing Las Vegas has the experience and equipment for your pool maintenance service and repair.
You might have observed some of these problems with your own pool. For you to be more familiar, here are the 7 most common swimming pool issues you may now be facing.
Serious swimming pool leaks are usually due to poor installation or simply because it has been standing for many years. If you've noticed that the water level in your pool is quickly going down, your pool certainly has some serious leaks. This type of problem needs to be called to the swimming pool repair in Las Vegas and addressed immediately.
Rough pool surfaces can lead to some accidents such as cuts and ankle sprain, and it also makes a person swim uncomfortably.
Pool exteriors often become rough when the pool's pH level rises, and in the process of delamination or crazing located in a negative environmental state. These scenarios cause pitting and calcium nodule buildup. 
To resolve this problem, acid washing, shaving, and sanding are recommended. However, if it returns it needs to be replastered.
Most pool tile stains are usually due to the absence of a waterline, chemically imbalanced water, in between pauses during pool filling, or improper application of the plaster. 
The ugly unremovable swimming pool stains can be removed through acid washing or pool resurfacing.
Having growing molds in your swimming pool can cause several health problems such as headaches, rashes, nausea, asthma attacks, and severe lung infection.
Molds grow when the water alkalinity level is imbalanced. To avoid this from happening, schedule a regular pool cleaning and always maintain the normal alkalinity level of your pool.
Obvious Structural cracks
A poorly constructed swimming pool usually shows some serious structural cracks which cause water leaks. This type of issue needs immediate attention and prompt solution from Pool Repair Las Vegas Nevada team. 
Pools with concrete bases are more prone to this, especially if they have been on standby for years. Pool concrete repair needs to be done immediately.
Scaling happens when the water alkalinity, pH, and calcium levels are imbalanced. You may start to notice some calcium or other chemicals and minerals building up in some areas of your pool. 
To prevent this from happening, it is essential to regularly brush the walls of your residential pool and apply a pre-diluted acid before filling it up with water.
If you noticed that your swimming pool is flaking and peeling off from the bottom side, it might be due to improper trowelling techniques that were done during the installation and or construction. Depending on how large the area is, spalling can be fixed through replastering or overlaying sand on the surface.
Are you looking for a trusted Las Vegas Pool contractor? Contact us now to avail yourself of the quality pool solutions that you need for your swimming pool, hot tub, and spa!
Pool Repair Las Vegas offers several repair services and outstanding results for any pool maintenance problems you may encounter. Other pool issues include cracks in pool decks, pool pumps, filters, heaters, and lights, imbalance in pool chemicals, automatic pool covers, and other service pool maintenance. We also do pool remodeling, pool plastering, resurfacing, and glasscoat. The company has identified the highest quality materials and equipment, carefully chosen the best in pool repair, and negotiated an affordable price to help you get more for your money.
Are you seeking the best pool resurfacing service in Las Vegas, NV? Look no further! Pool Resurfacing Las Vegas pros offer top-notch customer service, competitive pricing, and top-quality work.
Contact us today for your free quote at (702) 710-5883 and schedule an appointment and receive an estimate for your pool maintenance job. Don't settle for anything less than the best in town. Trust our business to provide you with the best service and pricing for your pool service repair needs.
Frequently Asked Questions