Reinforced Polymer Pool Resurfacing
HIGHLY DURABLE • RESISTANT TO CORROSION • LONG LASTING • LIGHTWEIGHT • QUICKER TO INSTALL
LIC. 0086433 – BID LIMIT $500,000
Pool Resurfacing Las Vegas, NV: Professional & Locally-Operated Pool Contractor
With over 20 years in the industry, Pool Resurfacing Las Vegas NV professionals – a locally operated & fully licensed company, has been providing an excellent method & prompt solutions to resurface any residential or commercial pools, spa, jacuzzis, water features, and other types of aquatic exteriors throughout Las Vegas NV.
We are known for producing outstanding swimming pool plastering and resurfacing services to our customers and have completed thousands of projects for our clients over the years in the Las Vegas Nevada area. Our experienced team of professional installers owns each project from start to finish ensuring quality results on all projects under our care. We offer free quotes!
Pool finishes become old and worn-out, especially if it's been standing for decades. You may see your pool surface being chipped and having some apparent cracks. 
The longevity of your pool depends on how the finishing is done, some may last longer than others. But in most cases, pool finishes will eventually wear down. 
Pool plastering has been one of the most common pool repair Las Vegas solutions, but there is a lot of better pool resurfacing options in the market now. 
Hence, pool plastering is not your final option if you want to improve and better your swimming pool surface or even your pool deck.
How Would You Know If Your Pool Need Resurfacing? The Signs Include:
If you've noticed any of these signs, you can contact us and request a free no-obligation quote. 
We are based in Las Vegas NV, and our friendly and expert contractors make sure that they provide you with the pool resurface style that you want.
When you know it's time for Las Vegas pool resurfacing, there are several options you can choose from that includes the following:
This type of material is a mixture of water, marble sand, and white cement. In fact, pool plastering is pretty affordable. However, since pool plastering is prone to having algae, weekly maintenance is needed. The pool plaster needs to be replaced from time to time.
Tile is usually composed of stone, glass, or porcelain. This type of material is known to be one of the most popular choices because it gives a natural effect to your swimming pools, and it is easier to clean.
Aggregate is a mixture of several materials such as glass beads, quartz, pebbles, and cement. This option unveils the type of stone being used, such as pebbles, leaving a bumpy finish to the pool.
A fiberglass swimming pool is composed of different types of resins and is molded and constructed in a factory. Fiberglass pools Las Vegas option is a bit costly compared to others, but it is durable and low maintenance.

Other pool resurfacing options include pebble tec, aggregate and gunite
Those are some of the options for a pool resurface in Las Vegas, including vinyl liner and gunite, but there's a new finishing option that is suitable for your pool coatings and repair needs. The material is called Glasscoat. This type of finish is highly recommended because of its low maintenance cost and durability, and it is less prone to pool chemicals.
Glasscoat is a modernized material used to perfectly remodel and refinish swimming pool exteriors. 
It is made of strong-industrial fiberglass combined with a polymer coating. This type of material is compared to a shell that protects and shields its component.
It is considered to be a versatile material that can be used on painted surfaces, steel, concrete, fiberglass, and aluminum. 
Glasscoat is the top option for Pool Resurface Las Vegas, this material gives an appealing look to pools, hot tubs, and other types of aquatic surfaces.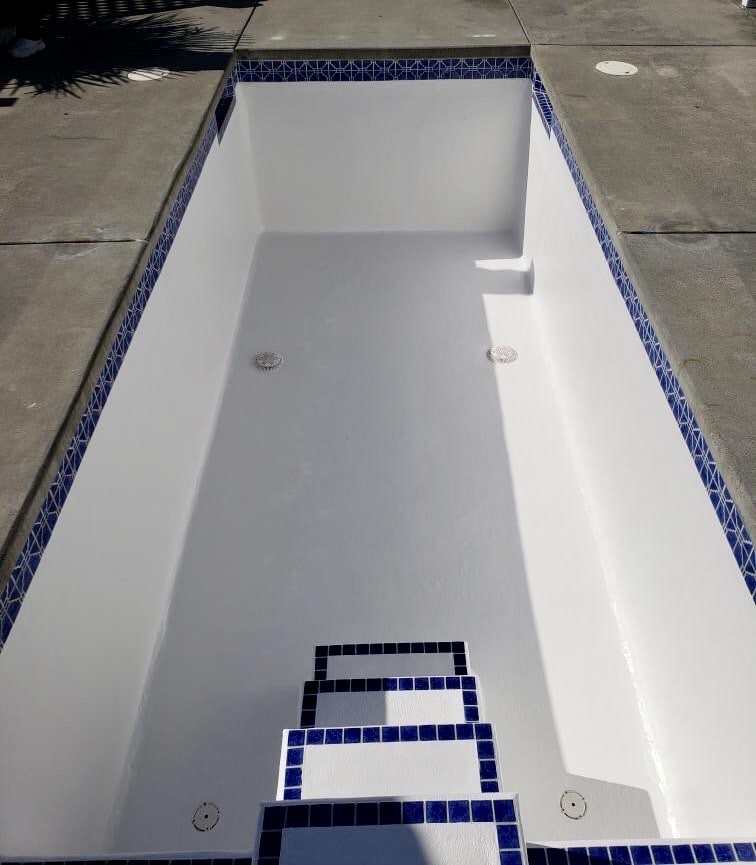 What Made Glasscoat Different From Others?
Glasscoat is considerably the best option for your pool repair needs because of the following reasons:
What Are The Benefits Of Glasscoat?
Glasscoat is the ultimate solution for any pool restoration and is mostly preferred by homeowners and business swimming pool owners in Las Vegas NV because it provides several benefits:
            Are you ready for pool plastering, resurfacing, or pool repair for your residential or commercial pools?
Call us now to learn more about pool repair services for inground and above-ground pools and get a free estimate! We are happy to work with you in the Las Vegas NV area.
Frequently Asked Questions