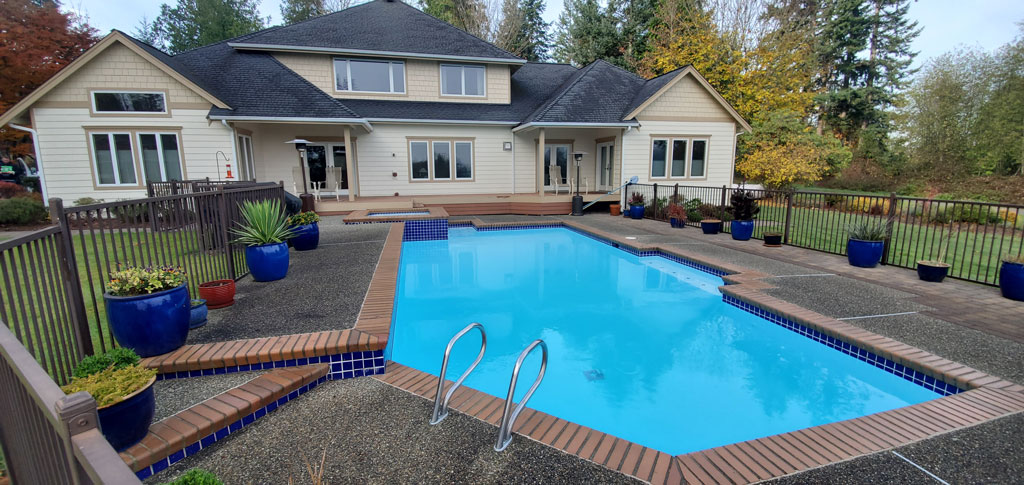 When you hear Las Vegas pools, you're probably thinking "luxury," billionaire tycoon-style leisure spot. And rightly so! The Neon Capital Of The World has no shortage of pool decking designs that definitely set the bar high for opulence and refinement.
But if you're working within a budget, will it still be possible to have a luxurious, stand-out pool deck that will make your residence the envy of the neighborhood? Absolutely. Here's how.
Pool Refinishing Ideas For Your Pools in Las Vegas
The choice is literally yours as you and your family decide on what type of material to use for turquoise colored water in a pool with concrete pool resurfacing. 
There are tons of concrete designs and patterns you can avail of and your job is to narrow down which ones you think best suits your home's overall appeal.
Concrete resurfacing usually comes in stamped overlays which are cement-based. These are light on the pocket and aren't at all complicated to apply. 
The very reasons why many homes in the city seem to favor this in place of other methods. Even better, polymer-modifications allow for versatility in terms of setting designs to make them. 
They're relatively thin, so they're really only best for overlaying and not on their own per se.
You can also take your pick among many gorgeous materials like limestone, sandstone, brick, etc. 
In case you really want to give that deck a facelift, then do your research about said materials. Find similar others for a beautiful aesthetic for your pool.
Epoxy Coating, also known as painting is another way to achieve a finish that's simple and pristine-looking. This specialty concrete sealer's main purpose is to cover up unsightly stains. 
The technique covers cracks with convenience. If you're into block hues for a pool deck, then this is quite the economical route.
Wood refinishing is a great option for that classic feel that never gets old. 
But also, you should be aware that maintenance will be much more tedious as wood slabs tend to have a faster aging rate compared to concrete, or at least, it happens in a very obvious manner through discoloration. 
Still, if you have the time for this kind of upkeep, after all, you're already upgrading your pool deck, so you might as well be hands-on with its maintenance, then here's the option for you. 
There's nothing that can compare to the natural colors of different kinds of wood strains.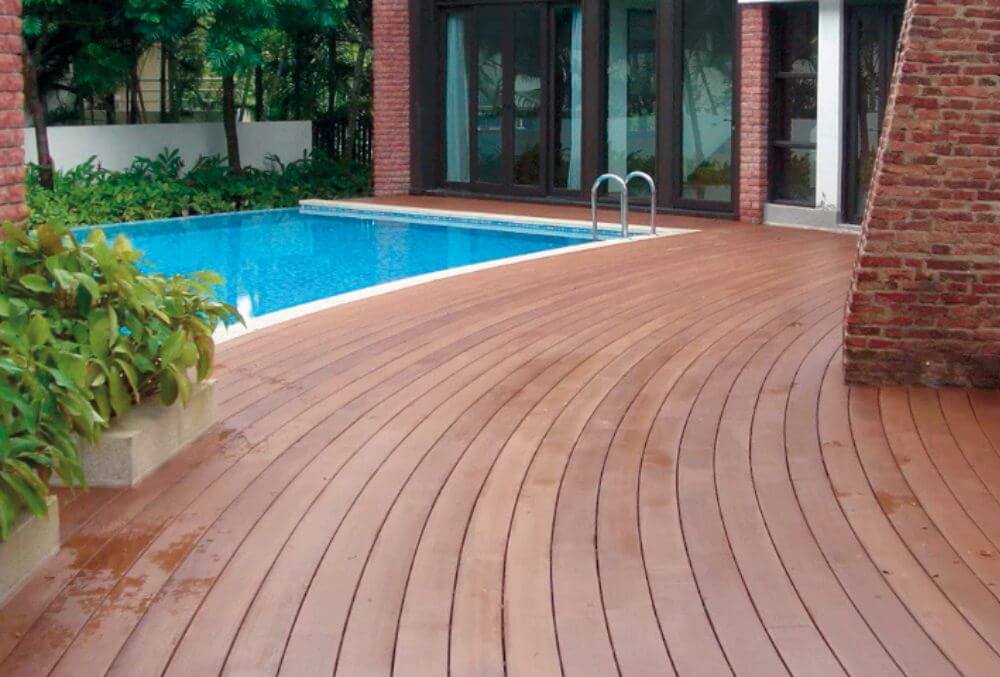 The following aren't directly a part of the resurfacing process, but according to experts, these are must-dos to really amp up your newly refinished pool deck's appearance. Check them out below.
Adding Furniture And Shades
There's nothing like adding accessories to your pool's surrounding areas. A few outdoor chairs and shades that match the pool surfaces' tone are an excellent place to start. 
Just be sure to arrange them in a way that won't block pathways.
Bringing in some greens does wonder to an outdoor pool yard. If you don't exactly have a "green thumb," then simple shrubs and bushes, or potted plants of a similar make will work just fine. 
A few trimmings now and then, and of course, watering, is all they'll need to thrive.